4 Instagram Marketing Secrets Brands Should Learn from Generation Z
January 8, 2018
Top 8 Web Design Trends to Keep an Eye on in 2018
January 15, 2018
Here's How Visual Search Can Amplify Your Ecommerce Business Growth in 2018
Humans are visual thinkers. Be it trendy jewelry, a new pair of shoes, or a sofa set for your new home, you use your eyes to decide if the product looks good or matches your style.
However, nothing can be more exasperating than drooling futilely over someone sporting your dream shoes or jacket in the wild, only to realize to your dismay that you have no way of ever finding it in the chaotic mess online. Without a viable style, brand, code, or a distinguishing characteristic to anchor the search, even an avid researcher would find digging up a piece of apparel or a product through text search alone, harder than excavating out a hidden subterranean city! Now imagine this; you love the floral dress a stranger is wearing to a party. Instead of having to swallow your pride and ask them about it, you simply take a picture, search for the dress entirely on the basis of the image, and get a number of results that include actionable information about the product. You can pinch yourself now since 2018 is promising to take visual search technology to unprecedented heights of success!
Visual search is one of the most amazing advancements in the digital world that is undeniably making a mark, especially in the e-commerce business world. 2017 was the year that marked the beginning of this latest breakthrough.In March 2017, Pinterest launched a visual discovery tool to make it easier for users to make visual searches around the web. When you visit a website, all you need to do is to hover over any image and select the magnifying tool to discover visually similar ideas on Pinterest.
The visual discovery tool of Pinterest gained a massive popularity that compelled online brands to add a visual element to their own websites. Within a few weeks of this advancement, Amazon came up with Spark that looks like an Instagram feed at first glance. It allows people to discover and shop stories and ideas from people that have common interests and like similar things to them.
In the wake of such innovations, eBay came up with their image search feature for mobile devices that has the propensity to combine AI and machine learning for better results. Google also launched new badges for images searched on mobile devices to help users discover and take the desired action – buy or try.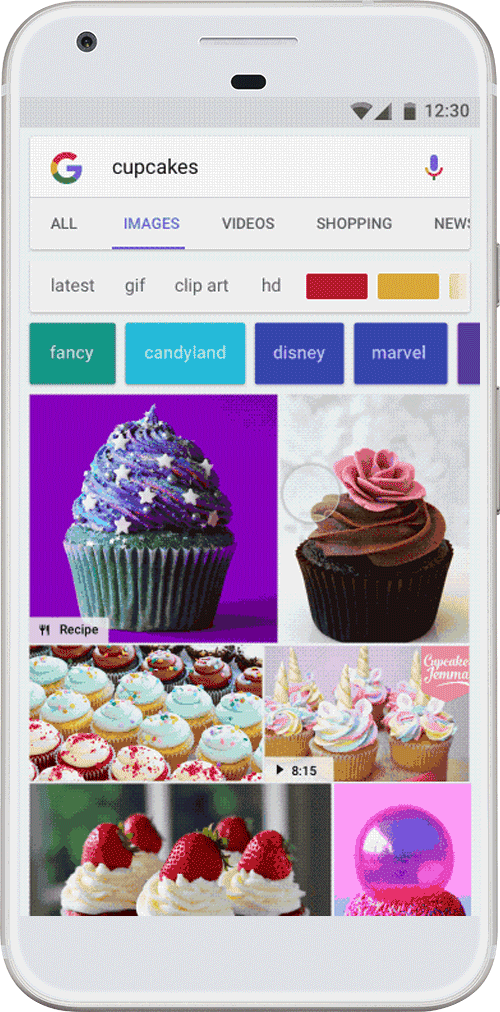 To put it in a nutshell, the more your consumers engage with your e-commerce business website, the more they convert, and the more sales you make. E-commerce websites are advised to ensure the display of visual content to improve their website usability. Adding visual search to your e-commerce business website can amplify the user experience which eventually helps you drive more leads and profits.
Saves a Lot of  Time
The human brain has the potential to process visual images more quickly than text. Visuals matter a lot to online shoppers and can quickly transform the way products are searched – no matter for mobile or web.
Visual search can quickly provide users with their desired products along with similar suggestions and prices. If truth be told, it saves a lot of time of users as it spares them from having to scroll through other pages to find similar products.
Close More Leads
It is the most effective way to lead consumers down the sales funnel and encourage them to buy more products that they might have missed. With the visual search option, you can improve the overall user experience by offering relevant product recommendations, so they can instantly see everything that is similar to the desired product. This product discovery option can make your e-commerce website more functional and accessible for users, thus increasing your chances of getting more leads.
Satisfy Customer Needs
Visual search also serves as a connection between noticing desired products in real life and promptly looking for them online. These images include those captured from an online catalog, social media networks, or even photos of unique outfits worn by someone at a party.
Visual search chatbots work miraculously while helping users to shop for products with the use of images that interest them, thus providing a great personalized shopping experience on a massive scale with great efficiency. There are many brands that are striving hard to grab the attention of customers using the traditional marketing techniques. This leads to each user being bombarded with a barrage of promotions, special offers, and exclusive discounts at all times. Eventually, the consumer tunes it all out in an effort to subdue the marketing noise.
Let's take an example of Neiman Marcus – a fashion clothing store that is offering its users a seamless user experience and maximizing their comfort by helping them find products of a similar design and style. They implemented a visual search technology on their website that allows users to upload a photo and get a recommendation list of the products that match the color and design they uploaded.
Increased Brand Reach
Visual search chatbots provide a more personal and natural communication experience to those consumers who profoundly depend on their smartphones and messaging apps to find their desired products and expect instant gratification.
Traditional brick-and-mortar companies can also make the most of this digital transformation and integrate e-commerce with visual search. Implementing the right technology can ensure a seamless customer experience across mobile and desktop, in addition to an increased reach.
A user visits a website for a reason, either to get the desired information or to purchase a specific product. Once he/she lands on the product page, it can feature a model wearing your favorite dress with a matching hat, sunglasses, shoes and wristwatch – and every product is available on the website to help them mimic the look.
Increase Your Cross-Selling
Visual search is based on AI that allows visitors to know that they can easily purchase the whole look rather than only one item and strives to show them similar products as they hover over the rest of the items that the model is wearing. This simply increases the chances of the consumer placing more items into their shopping cart before completing the purchase process.
It is often frustrating and annoying for users when the product that they are looking for has run out of stock. At this point, they are highly likely to abandon your website or simply look for your competitors' website to find the product that they were searching for. Meanwhile, they may still be in oblivion about the horde of similar products your website features.
This opportunity gives visitors a chance to purchase other items that go along with their chosen ones from your website. Online shoppers are visual thinkers, they shop with their eyes to make a purchase.For them, visual technology is the right fit. This is why more and more e-commerce businesses are implementing this innovative technology into their website to enhance the shopping experience for their customers.
Over to You
The implementation of visual search to your e-commerce business website helps users easily find their desired products. It guides them to visit the landing pages the need and save a lot of time in roaming around the website. Visual search helps e-commerce businesses to increase user engagement, improve conversion rates and generate more revenues. In short, it helps consumers to quickly find a product of their choice, thus meeting their needs immediately.